Are you having a hard time facing a very difficult situation? Are you fearful when it comes to expanding your horizon? If your answer to any of these questions is yes, then you may want to use crystals for courage. Yes, you read it right, crystals can help you become more courageous. If you're interested in this topic, then keep on reading.
Being courageous will help you in responding suitably to risks and achieve positive things in life. However, it will demand work in order to move beyond fears. In actual fact, being a courageous person is about thinking stuff through assessing not only the rewards but also the risks, and acting despite the fears that set in inevitably.
Courage, on the other hand, will bestow you the power to chase things that are very important to you. It will even boost your self-confidence while allowing you to believe in your own capabilities. Similarly, it is crucial that you comprehend that courage isn't the non-existence of fear.
Believe it or not, being fearful is healthy since it will let you assess the risks appropriately and slow down. Don't beat up yourself and assume you're not brave if you are feeling fearful. Always keep in mind that to become courageous means that one can act despite feeling fearful. What's more, the more you can face your fear the more you will get rid of your fear.
But here's the catch, courage is not a trait that naturally flows to every individual wandering the planet. In contrast, the majority of beings deal with a lack of thereof in some way as well as experience its consequences through affecting their abilities, communication, level of self-love, and strength when facing adversity.
Luckily there are many ways you can do to boost your courage. For one, you can boost your courage by gradually expanding your comfort zone. You can also take a step back and become more objective. But aside from that, crystals will also come in handy when it comes to boosting your courage.
There are crystals for courage that can be utilized under the appearance of crystal healing. As a matter of fact, it is one of the many ancient practices that can be drawn back to civilizations roaming the earth before. Far more spiritually progressive than human beings, such ancient communities were aware of how to reap all crystal benefits to make their day-to-day lives more fruitful.
As people rediscover the magic as well as secrets of crystals, we are having an idea about how they can be utilized to channel the experience of courage to benefit the physical experience.
Crystals for courage usually work by having an energetic and unique connection with their users. In fact, this can be easily recognized by frequency, but not by physicality. One of the reasons why they're capable of raising your personal vibration into a state of more courage and even more confidence is because crystals are high-vibrating tools in nature that spend hundreds of years under the ground and they're charged by elements and minerals.
Nevertheless, when it comes to crystals for courage, there are actually lots of options which you can choose from. So, keep on reading to find out which crystal will suit you the most.
A Complete List of Crystals for Courage
Here's the list of the best crystals that can surely infuse you with a boost of courage, especially when you need it the most.
Sunstone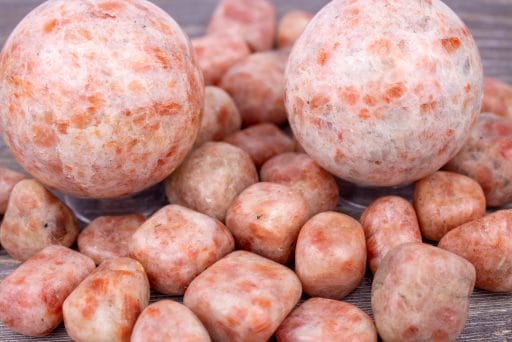 The warm shades of red and gold of the sunstone, sometimes brown or orange will definitely make you think that you are closely looking at the sun. In fact, such colors gave sunstone its mesmerizing name. Sometimes, this crystal can be either transparent or translucent. Though there are available opaque sunstones in the market. Sunstone also has traces of hematite and goethite.
This crystal, on the other hand, is unique that comes with extensive metaphysical properties. Since it's associated with the sun, the sunstone can be used as a constant source of positive energy and warmth. It's also a nurturing crystal and can revitalize those who feel they've been held back by the setbacks of life.
The best thing about this crystal is that it will eternally shimmer for those wishing to add some happiness and glitter into their life. And in fact, happiness may help in fostering courage naturally, and even self-confidence.
Along with its connection to the element of fire, the crystal will recharge your spirit while providing you with enough juice to handle even the toughest battles of life. Sunstone is one of the most powerful crystals for courage that you should bring with you all the time especially if you need more boosts of courage.
Blue Lace Agate
Blue lace agate is one of the most beautiful crystals you can see in the world. This crystal is truly captivating thanks to its delicate patterns and bands that resemble waves. The arrangement also looks like lace. Blue lace agate is a banded variety of chalcedony, a mineral belonging to the family of quartz. What's more, the crystal is a silicate with a hardness of 6.5 to 6.7 on the Mohs scale.
Aside from having a beautiful appearance, this blue crystal has a lot more to offer. Blue lace agate comes in handy especially if you want to draw from a more profound reserve of energy in order to speak your mind. Admit it or not, there are situations when you're faced with an amazing personal power that you feel helpless and small. But with the help of blue lace agate, you will surely control and survive these instances so you'll be the one who is in charge of your own fate.
This crystal is highly recommended for those who are having a hard time or don't have the courage to express themselves to other people. As a result, their ideas are suppressed by others who are naturally more vocal or open about what they're thinking.
Using this blue crystal will significantly lessen the chances when your confidence and power are crushed, unknowingly or knowingly by others. To get the most out of your blue lace agate, consider meditating upon it or wearing it on a daily basis.
Spirit Quartz
Haven't heard about spirit quartz before? If so, most probably you know the crystal by its other name. The spirit quartz is also called barnacle amethyst, porcupine quartz, cactus amethyst, and pineapple amethyst.
This crystal as the name implies is one of the many varieties of quartz. One way to differentiate it from others is by finding the overlying development of crystals to look away from their core point. Often, the spirit quartz can be made of smoky quartz, amethyst, and citrine that has striking arrays of natural white, pink, and purple. It also sports an unusual purple color that is because of the ferric iron impurities.
The spirit quartz, on the other hand, is a potent protection crystal that helps you in boosting your aura's defensive nature. It will also help in developing empathy as well as courage in people, so you should consider wearing it daily.
Empaths healing other people may find strength and courage to keep going especially when they choose to include spirit quartz in their healing crystal collection.
With this crystal, you will be able to connect your "true self" with what's called true courage or inner courage. In case you didn't know, true courage refers to the kind of courage that connects to the Godhead. As a matter of fact, it's unending and the most real form of mental and spiritual courage.
Nevertheless, people who perceive true courage can take advantage of the spirit quartz to broaden their awareness so that they will be able to handle true courage.
Pyrite
This list of crystals for courage will not be completed without including pyrite. Pyrite is considered an iron sulfide mineral sporing metallic shine. It also has a brassy color that resembles gold. In fact, due to this similarity, pyrite is also known as fool's gold. The crystal has a brittle texture, opaque transparency as well as a cubic crystal system.
Pyrite is a powerful magnet for abundance and wealth builder. Besides, it is a highly prized crystal for building courage and even strength. It's also associated with the chakra. In case you didn't know, this chakra is in control of fostering your natural psychic capabilities and talents. Undiscovered to many people, this chakra is the determination to do things or concealed seat of the will. Oftentimes, the determination will take a hit when the third eye chakra is either underpowered or blocked.
When the powers of pyrite are activated, its delicate energies will become completely supportive of the wearer. What's more, the defensive auric protection will extend to those that the wearers care for. Usually, this includes your family, and friends as well as a romantic partner.
As the crystal will build up courage in you, it will also improve the mental faculty and focusing and analytic capabilities when it comes to building knowledge.
Carnelian
Carnelian is a glassy and translucent crystal and an orange-colored chalcedony variety. The color of this beautiful crystal usually differs from light pinkish-orange to rusty brown. But carnelian is popularly known for its red-orange and vivid orange crystals.
Carnelian is another effective crystal for courage. What's more, it can also be used as a lucky charm if you want to develop higher endurance. With carnelian, you will be able to use your leadership abilities by tapping into your inner creativity.
As you keep on building your courage, carnelian will also improve your capability to face problems and think of great solutions. As a matter of fact, this beautiful crystal is associated with the sacral chakra and base or root chakra.
At carnelian's subtle energies, your fearfulness will melt away. And it will free you from unhealthy psychic and emotional bonds. On the other hand, if you are having a hard time trusting other people, you can also take advantage of carnelian. It will even help in boosting your capability to solve and confront problems.
Tiger's Eye
Usually, a metamorphic rock, tiger's eye is a notable crystal that comes in the shade of reddish-brown that has iron stripes. It also belongs to the chalcedony mineral family and has opaque transparency as well as a silky sheen.
Tiger's eye is considered a stone of protection. But aside from that, it can bring courage, good luck, and inner strength to its wearer. Tiger's eye is considered one of the best crystals for courage as it helps in focusing the mind, resolving issues unclouded by feelings, and objectively and encouraging mental clarity. It will even dispel anxiety and fear.
When you use this crystal in your sacral chakra, it will help in manifesting your deepest desires like boosting your courage. In addition to that, the tiger's eye will improve your creative energy. The unique color of this crystal expresses grounding and strengthening energies.
If you're uninterested to look for your purpose or spaced out, you can greatly benefit from using the tiger's eye. This is also beneficial for those who are having a hard time becoming optimistic. The tiger's eye will kindle confidence, hope, and courage for the forthcoming.
Further, it is ideal for healing problems of self-worth and self-criticism as well as unblocking creativity. As a result, you can courageously determine your abilities and talents.
Bloodstone
Sporting deep velvet green as well as darker hues, stippled with iron vivid blood, bloodstone is another wonderful crystal for courage. As matter of fact, this crystal is synonymous with all the ideas about the strength you've ever had.
Bloodstone was popularly known for its capability to promote resilience and courage. Believed it or not, it was also carried on the battlefield together with swords and shields. Bloodstone is a stone of courage, finding the strength to sustain it no matter what and facing realities.
If you know you're dealing with a tough time, whether a major life change or not, or every time you're feeling side-swept by an event in your life, having a piece of this crystal can greatly benefit you. It is because bloodstone will fill your being with a pure aura of moving forward.
Chrysocolla
We all know that articulation and communication will go hand in hand. Fortunately, chrysocolla does a great job when it comes to bringing out articulate sounds even to the most incapable persons.
Chrysocolla is a blue-green crystal that has a high copper content. It has opaque transparency with a dull or vitreous luster. Further, this crystal is a phyllosilicate mineral that is usually found in crusts, rounded masses, and vein fillings. The crystal is also made up of cuprite, limonite, malachite, quartz, and azurite.
Chrysocolla, on the other hand, can be a great help when it comes to organizing thoughts that will filter through into improved organization of words. As a result, you will become more mindful, especially in what you are trying to say using vocabulary and so feel more confident and courageous in your capability to walk over the world.
Additionally, chrysocolla will get rid of your self-restricting beliefs that contribute to your seeming lack of knowledge. With this crystal, you will gradually begin to communicate with the world with keen confidence in yourself.
Nevertheless, if you want to amplify the powers of chrysocolla in terms of boosting your courage, consider wearing it in the form of jewelry. But the ideal spot to have the crystal is in your neck since it's close to the throat chakra.
Aquamarine
Though aquamarine might not be the leading crystal for courage, this sympathetic and gentle crystal can teach you how you can eliminate your fears, especially during a tough situation. When you're coping with loss, whether that's dealing with a loved one's death or bringing closure on a certain relationship, aquamarine can provide you with great courage as well as strength.
With the energies of the crystal that resonate with your throat chakra, aquamarine can infuse you with the needed courage to speak up as well. It can calm your self-doubting feelings and this will allow you to confidently speak for yourself.
Aquamarine is also beneficial especially when you are moving through transitions and changes. The stone's cleansing energies will get rid of resistance while assisting you to defeat the fears of the unknown.
Last but not least, aquamarine will help you in releasing your emotional baggage and clearing out physical items and clutter.
Beryl
Beryl is considered a beryllium aluminum cyclosilicate. It is composed of aluminum metals and beryllium as well as rings of silicate. Often, this crystal is colorless, but it is also frequently colored with impurities. Beryl features prismatic crystals that may be either transparent or pyramidal. This crystal also has transparent, vitreous, and translucent luster. When it comes to color, it ranges from red to green, white, blue, and yellow. But if pure beryl has inclusions and impurities, its color changes as well.
Beryl is also known as the stone of a new beginning. In fact, it is the perfect stone to have if want to handle new challenges in life courageously. This crystal will help you to focus on your goals and remind you to believe in your abilities and yourself.
Beryl will infuse you with the much-needed courage and strength to perceive your potential. It will help you make changes not only to your personal self but to your career path as well. Furthermore, beryl will protect you from manipulative persons, encouraging you to become more independent and positive.
Red Jasper
Red Jasper is a microcrystalline quartz variety that has grainy and huge crystals rather than the fibrous layers shown by agate and chalcedony. This crystal is also opaque and exists as fillings in a fissure or as a nodule. What's more, red jasper is pigmented because of the process of iron oxide that offers its rich red coloring.
Red Jasper is one of the best crystals you can add to your collection. In fact, this comes in handy if you're dealing with feelings of worthlessness or self-doubting. Since red jasper stimulates the base chakra, it will boost your security, promoting self-honesty, improving confidence as well as making you feel grounded at the moment.
The red jasper will also reinstate your limitations each time negativity, domestic violence, or emotional pressures have battered them. It will give you the courage and even the strength to keep going in life.
With its gentle but powerful energy, red jasper will help you take things gradually especially if that's what you want. Dubbed the supreme nurturer, the red jasper can guide you in unleashing negative feelings, emotions, and energies blocking your system. It can offer you a positive viewpoint and support your thoughts in all conflicts you encounter.
Lapis Lazuli
When it comes to the most common crystal for courage, the lapis lazuli which is often found in shades of purple or deep blue may not be on the top list. But still, we included it as one of the most beneficial crystals for courage. It's because this stone possesses energies that can positively affect your determination and confidence.
Since ancient periods, this crystal has been associated not only with courage but also intellect, truth, royalty, wisdom, and strength. In fact, lapis lazuli has been word and used to adorn a home since it is believed to ward off darkness or evil.
If you want to stimulate your upper chakras, using the lapis lazuli is a great idea as well. It is a remarkable ally for boosting your spiritual strength. It offers relief, particularly to things that have been concealed or suppressed and let them come to the surface gently. The lapis lazuli will get rid of the bottled-up anger as well as physical illness and this will allow self-expression without holding back and compromising something.
With the crystal's strong connection to your throat chakra, lapis lazuli will promote courage in retaining your thought and voice. This will make you more confident when voicing out your concerns, thoughts, or ideas.
Additionally, the lapis lazuli will provide consciousness of your beliefs and inspirations, giving clearer perspectives of your life. It will not just reveal your boundaries but also push you to opportunities for growing and using your gifts and capabilities appropriately.
Sodalite
Frequently gets mixed up with lapis lazuli when it comes to texture, sodalite is relatively softer that has few sharp patterns. Though their coloring is almost identical.
Sodalite can be an excellent tool for public speakers who want to boost their courage. When placed close to the throat chakra, sodalite will promote better communication as well as honesty and commitment to what the speakers are trying to say.
Sodalite, on the other hand, is a creative crystal. And this makes it perfect for those who feel a bit of writer's block in making their speech. Also, when you're in a leadership position, owning a piece of sodalite is highly recommended because it will help you embody the expected fearlessness and courage from this kind of role.
Leopardskin Jasper
If you are looking for a crystal that may serve you as a substance for personal development, then you can never go wrong with leopardskin jasper. This crystal has several striking colors and distinct dotted patterns. It's also a silicon oxide with various inclusions which make its distinct and necessary patterns.
Nevertheless, when you have been constantly dealing with chaotic experiences, this crystal will first offer you courage and then follow it with strength. Leopardskin jasper will disclose the existence of options in which you may have once sensed there were none. In fact, this will help you take control of your life better.
Leopardskin jasper can be also a beneficial crystal in terms of finances. It will give the needed courage to handle these realities without lack-based thinking of fear. With the presence of leopard skin jasper, you may be motivated to take leaps of courage about new businesses or invest in a thing you're eyeing for quite some time.
Turquoise
Turquoise is believed to be the master stone for communication and public speaking. Because aside from facilitating the use of voice, this beautiful and powerful crystal will also allow you to listen to other people speak.
Most of the time, when you're caught up in your own viewpoints and thoughts, you can't hope to become a multidimensional and powerful public speaker. We all know that public speaking needs confidence and luckily turquoise can give you those essential things. As a matter of fact, turquoise was once utilized by some ancient doctors in order to block every aspect of the throat area.
On the other hand, public speaking will require courage and it will help to have some clarity of intuition. Turquoise gets you where you need to be exactly in this matter, never forsaking you in periods when you need to make public speeches.
Septarian
Also called the dragon stone, septarian is an amalgamation of calcite, aragonite, and limestone. In fact, it is a distinct crystal that has plenty of distinct capabilities. Actually, it is primarily used for self-assertiveness and self-grounding.
In order for you to become a good public speaker, you will need to emphasize yourself consciously and clearly, regardless of the environment you've been submerged too. If you lack courage and confidence as well as procrastination appears to badly affect your public speaking capabilities, septarian can surely benefit you as it helps you defeat them.
If you're associated with public speaking and there are times that you are not brave enough to face people, consider using septarian. After all, not every person enjoys standing in front of a crowd and spilling some truths, but when you use septarian, this kind of experience will become less traumatic.
Unakite
Sometimes called unakite jasper, unakite is a variety of granite that comes with quartz crystals, green epidote as well as pink orthoclase feldspar. This crystal has a distinguishing mottled pink and green appearance. Actually, when unakite is polished, it possesses a striking multi-colored appearance making it perfect to use for jewelry.
Unakite, on the other hand, is a semiprecious crystal. Since all of its components are relatively known minerals found in the crust of the earth, this crystal remains readily available and relatively inexpensive.
One of the best things about unakite is that it will help in boosting your courage. The crystal will allow you to take control of various aspects of your own life. This one of the best crystals for courage will also infuse you with confidence to transmute negative energies to constructive and powerful ones.
In addition to that, unakite is capable of strengthening your abilities. It will help you live up to your expectations. Unakite will also allow you to consider your weaknesses and strengths to save you from your failures and faults.
Prehnite
A prehnite is actually a form of calcium aluminum silicate mineral crystallizing in the form of stalactites, botryoidal, globular formations, and masses. However, it is rarely seen in the form of crystal, but when it's, prehnite is typically a small prismatic crystal. The color of this crystal is typically green or light yellow, though it is also available in colorless, tan, white, or gray.
Prehnite like any other crystal directly links the heart to the solar plexus chakra. Meaning to say, your heart space is attached to the person directly. As a matter of fact, it is the driving force behind you to move forward and chase your desires and goals.
Prehnite, on the other hand, is one of the best crystals for courage. It is considered a protection stone and its energies and powers can be easily opened especially when you're meditating with it on daily basis.
This crystal will also allow you to handle your fear better by opening up the spiritual sources that are available to everybody: inner courage, the spiritual world in the general, and universal wisdom.
Also, when you're having a hard time dealing with your past traumas, particularly the ones that make you fearful now, prehnite is one of the best crystals for courage that you can use. This is possible even if the cause or threat of your trauma is no longer existing.
Ruby
Ruby features a lustrous red color that will help you face your fears and most importantly, stand up in front of other people courageously. Since it is known for infusing wearers with bravery, ruby is hailed as one of the most useful crystals for courage. This red crystal will discourage violence while building a stronger sense of personal power.
Ruby is also an excellent crystal for providing energy in certain situations. As a result, you will feel motivated to achieve mental concentration and realistic goals. Also, if you want to make your dreams come to reality or have more endurance and courage to defeat the emotional challenges life may throw at you, ruby is definitely the perfect crystal for you.
Nevertheless, if you want to promote a courageous mindset, consider wearing a ruby as a necklace or ring.
Garnet
A fiery and bright red crystal, garnet is believed to be one of the crystals that are usually utilized for spiritual protection all throughout history. Besides, garnet is known as one of the best crystals for courage.
When you are making an important decision that may affect your life in general, you need to be courageous as well as mentally strong and ready. This crystal, for instance, can guide you on your path to wealth since it is helpful with regard to being in the correct frame of mind. In fact, garnet inspires both courage and confidence.
Another great thing about garnet is that will improve your inspiration and motivation. You'll notice improved determination to counterattack things that are bad for you. The crystal's energy will also boost your odds for success with regard to business opportunities and business dealings as it will boost your courage to take risks as well.
With its energies together with being courageous, you will be able to attract more prosperity and abundance into your life. It will even remind you to stay humble and be grateful all the time. Also, when you are feeling stressed out, garnet is a crystal that is perfect to have when dealing with a crisis, it's because, it signifies courage, strength, and even support.
When you have the stone's energies working for you, you will become successful. You can even embrace your capability to encourage more positive things in your life.
Chevron Amethyst
Chevron amethyst is an amalgamation of amethyst, combined to make a stripped or V-banded pattern. Usually, it is a striking lavender, white or purple in hue. Occasionally, this crystal is also named dogtooth amethyst and banded amethyst.
This crystal, on the other hand, combines the boosting qualities of quartz with amethyst's intuitive and relieving qualities. Chevron amethyst is also believed to improve self-discovery, peace of mind, and relaxation. What's more, it is thought to bring inner strength and most importantly, courage. Chevron amethyst will get rid of your resistance to change while dissipating and repelling any kind of negative energies.
It is also worth mentioning that this stunning crystal can make room for progress and growth. All lessons from your previous experiences will be applied and thus, you will eliminate unwanted elements. Also, you will welcome such changes courageously even though they are uncomfortable and scary.
Honey Calcite
Honey calcite is a mesmerizing crystal that forms in rhombohedral or massive crystals. It is also classified as a calcium carbonate mineral. Honey calcite is one of the most popular minerals on earth since it is taking different forms and occurring in various geological environments.
Honey calcite is also a potent energy cleanser that can be used in boosting the powers of other crystals placed close to it. Another great thing about this crystal is that it will encourage responsibility and the correct use of power in leadership.
It will boost feelings of courage as well as confidence and assist in surviving obstacles. This variety of calcite will also help you in finding your personal power. It will even bring a sense of self-worth. With honey calcite, you will recover from the abuse you have experienced before.
Honey calcite strongly resonates with the sacral chakra and solar plexus chakra and will ooze achievements. The crystal will bring grounding, focused energy, clarity, and inspiration.
Green Aventurine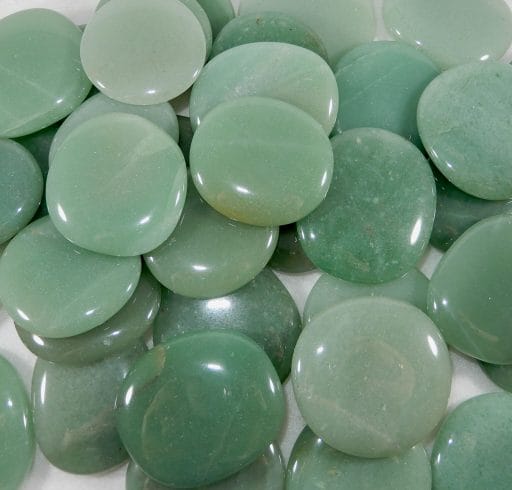 A glimmering green crystal, green aventurine has a lot more to offer than simply attracting luck. In fact, this crystal can bring a burst of courage and even confidence that will surely crash down your doors.
Green Aventurine is a green variety of quartz that has a glittering quality and darker hues. This crystal was believed to have once stud the protection of Amazon warriors. It is a bit of wonder then that green aventurine is a crystal for heart chakra that will stir up the resoluteness in one's heart. Keep in mind that resoluteness doesn't need to be negative as green aventurine is all about looking for the courage tucked deep within, space, determination, and strength.
If you feel that you're stuck in the rut forever and want to look for a new thought pattern to drive them forward, green aventurine is one of the best crystals for the courage you can use. Green aventurine will clear your heart space and then call the throat, third eye, and solar plexus into connection. And please note that it will grant you clear channels to move forward.
Amazonite
Amazonite is a remarkable crystal that comes with potent vibration. It will serve as a tool that can prevent your courage and even confidence from dripping away. Amazonite will also soothe your fears and worries, especially the ones suppressing your bravery.
Amazonite is known as the stone of hope as well as success. It will help you generate trust and positivity in your talents. Amazonite will help you transform your dreams and goals into reality by boosting your courage and getting rid of self-restricting thinking. This will also help in reaching your most real potential.
Amazonite is popularly known for its energy to bring strength and courage, like the brave ladies who the crystal was named after. Amazonite will bring such intense characters while letting you look for your truest self. it will even allow you to live by these values.
Poppy Jasper
Poppy jasper is a striking variation of brecciated jasper. The crystal has a crystalline structure and is categorized by its orbicular patterns of vivid red poppies as well as speckled white, black, yellow, and brown shades. The poppy jasper is a powerful promoter of amity and peacefulness and can effectively soothe an overactive root chakra.
When you're affected by demanding individuals and dealing with unpleasant situations, chances are that your energy and confidence may get worn down. The good news is that poppy jasper has energizing vibrations that can help in restoring your strength and improve your courage to establish a boundary from negative persons.
In addition to that, poppy jasper can infuse your life with warm and joyful energies that can promote a happy and optimistic outlook. It will also fill your life with compassion that helps in empowering your base chakra.
The nurturing energies of poppy jasper will make you feel grounded especially if you're feeling overwhelmed. When you keep it in your pocket, you will be able to connect with its powerful energy with ease throughout the day.
Bronzite
Bronzite is a less popular crystal but it deserves a spot in this list of most useful crystals for courage. This crystal is part of the pyroxene minerals. It transpires in the majority of ultramafic and mafic igneous rocks such as norites, serpentinites, perfidious, and gabbros. Bronzite is an eye-catching crystal in chocolate brown that has glittering golden quartz.
Bronzite, on the other hand, is beneficial for emotional strength. It will also give you the courage to handle even the most difficult situation. It's because bronzite comes with balancing, stabilizing, and grounding energies.
Bronzite is also a wonderful crystal for the lower chakra. Meaning to say, you can take advantage of it especially if you want to reduce your insecurity, self-defeating thoughts, and self-doubt. Bronzite will encourage will and decisiveness to overcome challenges by taking action.
Aside from reducing the feeling of helplessness, this crystal will also infuse you with hope, get rid of fears, and facilitate handling a difficult scenario with kindness and composure. Dubbed the stone of intensive action, bronzite will transmute your life through flow and harmony, while feeling centered, confident, and courageous.
Hematite
This list of crystals for courage will not be completed without mentioning hematite. This crystal effectively radiates heed and strength. Hematite is a powerful crystal that is capable of promoting confidence, reliability, and determination especially when you are feeling a lack of valor.
Hematite is also a grounding crystal that will restore your vitality. This is possible by absorbing all the negative energies around you that drain you. It is known as one of the crystals for courage because it serves as a potent shield, protecting your energy field against negative energies. It will even reduce your worry, stress, and anxiety.
Hematite can also offer emotional and at the same time physical strength through confidence, courage, and resilience. It will ground in the feeling of constancy and security and help you in manifesting your dreams and goals into reality.
Fire Agate
Fire agate is a distinct variety of chalcedony. While there are many different varieties of chalcedony out there, the fire agate sports a distinct coloration making it stand out. This crystal's base is slightly reddish or brown, but throughout its composition, coatings of limonite or iron oxide give fire agate tiny flecks of orange, yellow, and red. When this crystal is turned, it will show a flickering and glittery effect as the layers are so thin.
Besides having a stunning appearance, fire agate has a lot more to offer. If you want to boost your courage and experience inspiration, you can never go wrong with this crystal. With the presence of this crystal, you will have the courage to pursue your best life and follow your spiritual route.
Fire agate is also considered beneficial for the chakras located below the heart which is associated with courage, survival, and self-confidence. If you wish to benefit from such energy centers the most, consider wearing or carrying it around your waist area.
Petrified Wood
Petrified wood is a crystal that is formed as mineral-rich water infiltrates wood over a couple of years. As a matter of fact, it leaves its minerals, changing the portions of the wood-decaying over time. The outcome is patterned like the original wood, though the petrified is hard and stronger as well as adorned with bright flashes of opalescence.
Another great thing about petrified wood is that it helps in developing courage as well as inner strength. It is known as beneficial for guiding every person through changes providing the needed perspective, courage, and strength to emerge better compared to before.
Make sure to keep it in your pocket at all times so that you can tap it into its powers easily whenever needed.
Tiger Iron
Tiger iron is an amalgamation of three minerals: red jasper, hematite, and tiger's eye in a stunning striped pattern. Since it combines the qualities of all three crystals in one remarkable package, we cannot deny the fact that it is one of the best crystals for courage. As a matter of fact, you can use tiger iron in the same manner you would any of these crystals.
As mentioned, like confidence and strength courage are innate at all times. Courage is a thing that most people need to work in order to cultivate particularly when life seems to be wearing you down and causing you self-doubt. Fortunately, tiger iron can be used as a powerful ally to help you walk through such feelings and emerge much stronger, more courageous and confident, and happier than you were before.
Moonstone
Moonstone is called the stone of a new beginner. This beautiful crystal harnesses the soothing energies of the moon to ease a lack of courage and feelings of self-doubt.
If you don't have the courage to face your fears or phobias, one of the best crystals that is ideal for you is the moonstone.
This crystal will ease and calm your emotional fears and this will allow you to recover from a trauma or loss providing you the courage to move forward.
Furthermore, for the emotionally unbalanced, moonstones will neutralize the imbalances. During times of crisis, carrying or wearing it can be extremely beneficial especially when your courage is running very low.
How to Use Crystals for Courage
There are many different ways to work with the different crystals for courage. Here are some of the best ones you can try to get the most out of the energies and powers.
Make A Crystal Grid
A crystal grid is typically used to change the energy of spaces. Choose crystals that strongly resonate with your intents and then arrange them in a grid, making sure to follow a symmetrical pattern. The crystals will work in order to manifest your intentions and desires, while the grid's distinct geometry will help you manifest or accomplish them more rapidly.
To add more energy to your crystal grid, you can utilize a piece of life grid cloth that is a cloth printed with a sacred geometrical pattern. What's more, you can refer to the principles of feng shui especially if you want to find out what is the perfect crystal color you can use and where to position the crystal grid for specific intentions.
Place Crystals For Courage On Your Body
Did you know that putting crystals for courage on the body comes with different effects when you just hold them? This is actually true.
When you are working with a certain chakra, you will need to choose a crystal that will correspond to that chakra and then place it on your body. By doing this, you will be able to activate and at the same time stir the energies that surround the chakra and lift the emotion you want to heal.
For instance, if you don't have the courage to open your heart chakra to give and receive love, you can make use of green aventurine.
Bring Crystals With You
Keep in mind that the more you interact and connect with your crystals, the more aware you'll be of their qualities and energies. So, another great way to use these crystals is to carry them with you in your purse or pocket and then pull them out every time you need a boost of courage.
Hold A Crystal For Courage While Meditating
If you're looking for an easy way to connect with the crystal, consider meditating with it. All you need to do is simply hold a piece of crystal o both hands, though you can always use one hand. Then close your eyes and start focusing on your breathing. As you do this, you might feel that your body falls as well as sink deeply into the earth, making potent grounding effects. As a result, you may feel airy and lightheaded or in some cases, you might not feel anything at all.
But keep in mind that some crystals do not resonate. All the above-mentioned crystals feel different, so be patient and keep on experimenting. Don't choose one that can make your hair on the skin stand up.
Drink A Crystal Elixir
If you want to absorb the energies of your crystal on your body directly, consider drinking a crystal elixir. Actually, there are two different methods to make an elixir: direct method and indirect method.
If you're using crystals that can't be submerged in water, an indirect method is the right one for you. For this method, you will need to make a grid of crystals that surround a bottle filled with water. Though you can place a specific on top of the bottle but make sure it is closed. The crystal's energy will fuse with the water indirectly as well as offer effective benefits.
On the other hand, the direct method refers to submerging not-toxic and safe crystals into a water bottle and leaving it the whole night.
To overcome lethargy and self-doubting and boost your courage, drink the elixir throughout the day.
Use A Positive Affirmation
If you need the courage or even confidence to handle something that you've been avoiding for quite some time, consider placing a piece of sunstone on the solar plexus chakra that is located between the heart and the navel.
After positioning, imagine warm lights coming from the crystal as well as traveling in your body. The moment your body is bursting with warm light, you will need to voice out your affirmation like "I'm courageous and bold and I have the supremacy to decide".
How to Cleanse Crystals for Courage?
The different crystals are considered highly personal tools. With that in mind, they should be kept away from significant conflicting energies. Generally, crystals should only be used by their owner only. As a matter of fact, when you allow strangers or even your friends, kids, love, and loved ones to handle your crystals physically you are also giving them the chance to leave their energies behind unknowingly.
Crystals are working in vibration. That's why they can't distinguish between the hands of others and your hands. It is because they will attune to all present energies. Having that said, it is important that you cleanse and charge your crystals even at least once or twice a month. By doing this, you can rest easy knowing that your crystals are always ready to do their job with you.
When it comes to cleansing crystals for courage, there are actually lots of methods you can try. It's up to you which one you should use. But make sure to choose the method that is suitable for your crystals, lifestyle, and intentions.
Burn Sacred Herbs
One method is to burn incense or sacred herbs over your collection of crystals for courage. When cleansing it is crucial that you offer well-intended thoughts. For better results, it is best that you make use of any kind of palo santo, sage, and sandalwood.
Submerge Crystals In Saltwater
Submerging your crystals in salt water for a day is another method to cleanse them. But keep in mind that some crystals can't be submerged in the water safely, so make sure the crystal you have suited this method.
Leave The Crystals Under The Moonlight
You can also leave your crystals under the full moon's light once a month and then get them the following morning. Burying them in your garden for a day to two helps in removing the negative energies your crystals have accumulated.
Use Rainwater
On the other hand, if you have been blessed with rain, you can leave the crystals outside and let them enjoy the showers. It's because the water in motion is an excellent cleansing method. But it's worth mentioning that it isn't suitable for crystals that aren't water-safe.
Use Selenite
Did you know that you can also use crystals to cleanse your crystals for courage? This is true and for this method, you should consider using selenite since it is an excellent self-cleansing crystal. All you need to do this place selenite beside the crystals you want to cleanse.
Nevertheless, crystals go over a demanding time of handling between being mined as well as getting to your hands. It means, they'll come into contact with many conflicting energies that linger on them. So, if you acquire a new crystal make sure to cleanse it thoroughly.
Final Thoughts
Are you having a hard time achieving your goals because your fears are stopping you? Do you find it hard to be real to your own beliefs, thoughts, and feelings? If yes, you are not alone. A lot of people these days are struggling to act especially in the face of uncertainties and fears. And take note this will hinder you from achieving your spiritual, professional, and spiritual goals.
While there are lots of ways to enhance courage, crystals can actually give you a boost, especially during tough situations. With that in mind, if you are scared of judgments, need to take action, or are worried when it comes to standing up for yourself, the above-mentioned crystals for courage can surely help you.